Favorite PC Games
---
Last Updated: 2-26-2019
Game Emulators List (8-8-2016)

Old Favorite PC Games List (6-27-2010)
---
The games shown on the top of the list were the most current favorite PC games for the ants (no time and motivations to play games these days!). The bottom ones are considered classic and played rarely or never again. Each game page lists links and the latest demo and full version numbers.
Your OLD gamer is currently not playing computer and video games much due to lack of free time and energy/motivation. However, he still plays frequent slow turn based rbot's virtual/online text-based games (e.g., Uno and Junkyard (also its other mod(ed/ified) themes)) with online friends in Internet Relay Chat (IRC) once in a while. Past seasons' Uno scores can be found in here and yes, Ant sucks (not physically since that one broke in the second half of 1998) as usual.
---

Battlefield Series (1 and 2 only)
(Last Updated: 11-17-2006)

Command & Conquer (C&C) Series
(Last Updated: 4-4-2010)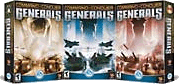 Notes: Ant made United States (U.S.) maps for original Red Alert. He also didn't like Tiberium Sun, Red Alert 3, and Command and Conquer 4 (Tiberian Twilight).