THE ANT FARM'S RESTROOM
---
You slowly peak into the restroom and notice an ant on a toilet... The ant tells you something, but your human ears cannot hear her.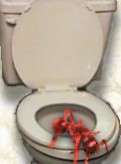 Please kindly click the play button on the controls to hear what this ant has to say. The sound was amplified to be listenable to a human's ear.
---
Return to the Close View of the Ant Farm

or go to the Directory Room

if you are lost.
Last Updated: 12-25-1999