THE ANT FARM'S DIRECTORY ROOM
---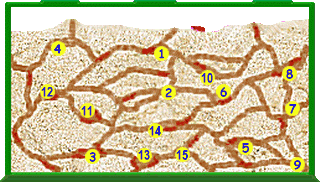 You are here!


Restroom for those who can not hold it.


Reading Room for those who are looking for ant-related links including The Ants Frequently Asked Questions (FAQ).


Files Tunnels lead to various storage rooms with favorite goodies in:

Personal Computer/PC Games Tunnels: Current and old, favorite games, emulators, and links. The ants created a few addons and maps for some of these games.

Sight Seeings Room: Sighting Seeings to stream/download.

Music Room: Favorite music files and links in MIDI and MOD-related fields.

Storage Room of Internet: Internet browsers and other cool programs.

Windows Room: Windows files and links. These ants will tell you where to go today.

Linux Room: Linux files and links. These ants will tell you where to go tomorrow.

Computer Sources: Ants need to kept updated with the computer industry with information, reference, and humor from the Internet. This also include other nerdy/geeky stuff.


Ant's Buddies Room: Ants are not alone.


Empty room for now...


Weather Forecast: Will it rain in The Ant Farm, Los Angeles, CA?


Miscellaneous Tunnels: for favorite, useful and useless items.


Disclaimer: Yes, you have to read it.


The Three Stooges: Meet the wise guys of The Ant Farm.


About Ant: Resume, pictures, favorites, music, surgery diary, articles, and information on the Webmaster/overlord (Ant).


Forum: Visitors and ants hang out to socialize about ants.


Art Gallery Room: All kinds of pictures on ants.


Personal Computer/PC Games Tunnels lead you to their game rooms.


---
To have an ant search this web site (not the forum and non-zimage.com areas), please enter your keyword(s) (e.g., queen) in one/1 of the search boxes:

Or use Google's Search:

Watch out for your spelling errors with your search inputs. FreeFind's search database is updated daily while Google's is updated rarely and sometimes has old and missing web pages.

Also, try the site map and what's new if you just want to explore without searching.
---
To contact Ant, please visit the Welcome Page. Return to The Ant Farm's Close View Page

.

Last Updated: 5-11-2016.